VIFF: Words and Godard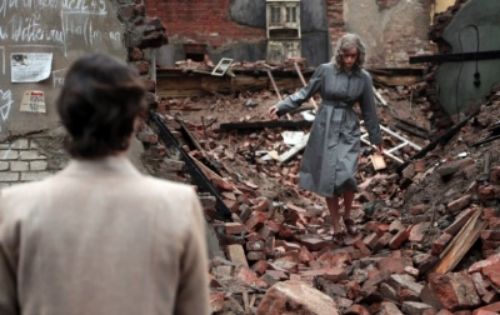 The best film I saw at this year's Vancouver International Film Festival was called
Adieu au langage
, but if anything, this was, by far, the talkiest bunch of films of any year I've attended VIFF. There were a few exceptions, of course—most notably, Tsai Ming-liang's dialogue-free
Journey to the West
—but Godard's own film (pointedly) wasn't one of them.
Goodbye to Language
is as loaded with oblique philosophical musings and long-winded discussions as any Late Godard work, but the overlap between discursive and formal ideas here feels altogether more on-point than in anything he's done since
In Praise of Love
. Tsai's latest might, in fact, provide the best point of contrast.
Journey to the West
, a feature-length expansion of Tsai's red-robed-monk-walking-
very
-
slowly
-idea—executed so effectively in his hypnotic short,
The Walker
—ultimately pays diminished returns in long form, despite the new setting of Marseilles, the addition of Denis Lavant (as a kind of apprentice to Lee Kang-sheng's oblivious, contemplative monastic master), and a couple legitimately stunning compositions. By comparison, Godard's first foray into 3D, the short
The Three Disasters
, felt like an interesting enough experiment that didn't hang together particularly well—a minor curiosity within his later filmography. Which is why (to my tastes anyway) the perfect marriage of 3D form and content in
Goodbye to Language
was almost as surprising as it was pleasurable and exciting. As a movie-going experience, there is nothing else quite like
Goodbye to Language
, at this film festival or otherwise. Since a capsule review (i.e., language!) is doomed to do this great film even less justice than a 2D screening would, suffice it to say that this is a legitimate theatrical 'must-see' in an age of wait-til-it's-on-Netflix. Yet, insofar as Godard's work has always been concerned with the philosophical implications of representing 'reality' through the various signs and tropological figures of artistic media, this is a sly, provocative reiteration of his
raison d'être
.
Can the same be said for Olivier Assayas's no less loquacious
Clouds of Sils Maria
? Well, that depends on what we take to be the
raison d'être
in the
oeuvre d'Assayas
, a slippery, chameleonic auteur with an uncommonly varied body of work. After seeing the marvelous
Clouds of Sils Maria
, I'm apt to say that identity and performance, and the hazily delineated space between, might be his great theme. Returning, in certain respects, to the territory of
Irma Vep
and André Téchiné's Assayas-scripted
Rendez-vous
, the new film centers on an actress (Juliette Binoche) who is deeply ambivalent about taking on a dramatic role that hits a little too close to home for her. As Binoche's aging star, Maria, prepares for the part, a never-better Kristen Stewart performs various roles—personal assistant, rehearsal partner, and confidant, among others. As these roles begin to blur together, so, too, do the subjectivities of Binoche and Stewart, Maria and Stewart's Valentine, and the theatrical characters in the play for which Maria is reluctantly preparing. This tension among identifies, real or performed, is mostly explored through the extended conversations (and line rehearsals) of Maria and Valentine, set against the gorgeous back-drop of the Swiss village of the film's title. The obvious comparison here is with Bergman's
Persona
, and I'm sure Liv Ullman and Bibi Andersson's psycho-sexual two-hander was never too far from the thoughts of Assayas, Binoche, and Stewart. But, much in the same vein as
Clean
and
Summer Hours
(two of Assayas's best films, in my view),
Clouds of Sils Maria
is a warmer film, often very funny, more poignant and humane than any of Bergman's film work, excepting (maybe)
Fanny and Alexander
.
A more direct heir to the austere mood and tone of Bergman's chamber dramas is Nuri Bilge Ceylan's Palme d'Or winner,
Winter Sleep
. Even the title sounds like something Bergman might have made in the late '60s or early '70's. Yet, where most of Bergman's films from that period center on women (hence, the somewhat misleading comparisons elicited by
Clouds of Sils Maria
), Ceylan's latest focuses on a middle-aged man, an explicitly Shakespearean figure (he owns a sprawling, idyllic property called the Hotel Othello) whose closest antecedent in Bergman is probably Victor Sjöström's melancholy old professor in
Wild Strawberries
. Ceylan's protagonist, Aydin, is a wealthy former actor who now presides over his family's vast holdings on the Anatolian steppe, while penning a weekly column in the local newspaper and beginning work on a monograph concerning the history of Turkish theater. While Aydin regards himself as a magnanimous Man of Letters, his recently divorced sister and much younger wife see him as a pompous, patronizing blowhard, too enamored of the sound of his own voice (pontificating aloud or on the page). Most of Aydin's relatively impoverished tenants seem to share this view. This troubling trick of perspective—between how one perceives oneself in relation to one's family and community, versus the very different perception of others—is expressed, again, through long, tangential exchanges between characters; the composite image of Aydin with which we're left is haunting for its incongruous layers, resulting in what might well be Ceylan's least schematic, and best, film to date.
The difficulty of really "knowing" a singular, complex individual is another major theme among several of this year's festival offerings. Where Aydin is a grand fictional creation, the enigmatic people in other instances are based on historically notable figures. Neither Mike Leigh's
Mr. Turner
nor Ann Hui's
The Golden Era
are biopics in the usual sense. Timothy Spall's J.M.W. Turner is the kind the peculiar, eccentric subject that we've come to expect at the center of artists' biographies, but the grunting, introverted landscape painter is flagrantly uncharismatic and scarcely psychologically legible. His artistic method is vividly demonstrated, but his genius is not explained—much to Leigh and Spall's credit. Leigh is more concerned with re-situating Turner within the social and cultural context of his particular milieu; the material details of time and place are recreated with the same meticulous precision that distinguished
Topsy-Turvy
and
Vera Drake
.
This concern for placing the elusive biographical subject within his/her historical context is also apparent in
The Golden Era
. Yet, more radically than Leigh, Hui never establishes a fully stable or secure vantage point from which to consider her subject, the writer Xiao Hong (Tang Wei). Mirroring the process of researching and writing a biography about a long-deceased historical figure, Hui consults with (actors portraying) some of Xiao Hong's close acquaintances, who speak directly to the camera about their experience with the (ostensible) protagonist. Some have complained about this somewhat jarring strategy, but I felt that it allowed the seams of the narrative to show in a very fruitful way, deliberately undermining the seductive sweep of the handsomely mounted epic by conceding that the larger story is constructed around imperfectly remembered and sometimes contradictory interpretations of Xiao Hong's life. Only in the film's opening and closing moments is the subject allowed to speak for herself: in the first instance, stating the basic facts regarding her birth and death; in the second, reading an excerpt from her final literary work,
Tales of Hulan River
.
In other films at this year's festival, characters are only able to speak some version of the truth through song. In Kris Elgstrand's
Songs She Wrote About People She Knows
, Carol (Arabella Bushnell) is tight-lipped in conversation, by no means eager to get caught up in the long, drawn-out discussions of Godard, Assayas, and Ceylan's films. (Full disclosure: I am personally acquainted with Elgstrand and Bushnell – but their movie is terrific, at any rate.) Instead, where Carol is able to speak her mind is in short, musical messages (rather in the style of early Nellie McKay!) that she leaves on the answering machines of her neighbors and co-workers. Her seething frustrations with those around her are no less severe than the criticisms directed at
Winter Sleep
's Aydin by his sister and wife, but their expression, here, through song positions Carol's vitriolic messages in an ambiguous space between everyday language and art. If Carol and her message-recipients finally arrive at something like a collective happy ending, it's because her musical soliloquies, presented
as art
, have managed to facilitate the beginnings of actual dialogue.
The revelatory power of song is also hugely important in Christian Petzold's superb
Phoenix
, though I shouldn't say much more about that here. Without giving too much away: the lines demarcating authentic from performed selves are as rough, jagged, and increasingly indeterminate as they are in
Clouds of Sils Maria
—or, for that matter, in
Vertigo
, the film most explicitly referenced in Petzold's deeply cinephilic
mise-en-scène
. But where Hitchcock's masterpiece is, above all, a meditation on the painful, personal process of creating art, Petzold's drama, set in Berlin in the immediate aftermath of World War II, is really only
partly
about cinema, or artistic representation more generally. Like Godard's bifurcated treatment of "
La Nature
" and "
La Métaphore
" in
Goodbye to Language
(or the overriding themes in his monumental
Histoire(s) du Cinema
),
Phoenix
is about the literally unspeakable in the history of the twentieth century. Mounds of grey rubble dotting the scarred cityscape say something about this history, but images can only describe and circumnavigate real historical trauma—or worse yet, semiotically subsume it. Words can do little more, admittedly, yet—whether written, spoken, or sung—they're finally, very nearly all we've got. _____________________________________________________________________________________________________
Top 10 Films
01.
Goodbye to Language
(Godard)
02.
Clouds of Sils Maria
(Assayas)
03.
Phoenix
(Petzold)
04.
Two Days, One Night
(Dardenne/Dardenne) A series of difficult, emotionally fraught conversations made, remarkably, for the festival's most thoroughly suspenseful film, besides perhaps
Phoenix
; the Dardennes' best work since
Rosetta
and Marion Cotillard's second astonishing performance of late, after her tremendous turn in James Gray's
The Immigrant
.
05.
The Golden Era
(Hui)
06.
Mr. Turner
(Leigh)
07.
Winter Sleep
(Ceylan)
08.
Life of Riley
(Resnais) Alain Resnais's swansong is as talky as any film mentioned above, but where most of those are decidedly dark, or at least moody,
Life of Riley
is a sprightly, engagingly theatrical comedy: all the grim business of death and dying occurs off-screen/stage—both in the non-presence of the terminally ill, Godot-like title character and the inevitable echoes of Resnais' own recent passing.
09.
Foxcatcher
(Miller) An abrupt shift in tone from Bennett Miller's
Moneyball
(a movie I actively love), but one that avoids the caricaturish treatment of famous subjects that marred his
Capote
. If Steve Carrell's heavily made-up, against-type turn as disturbed billionaire John du Pont is inadvertently a "stunt performance" of sorts, it's still much more nuanced and sensitive than Phillip Seymour Hoffman's over-praised Truman Capote; Channing Tatum and Mark Ruffalo, providing a more prosaic counter-balance to Carrell's menacing eccentricity, are no less excellent.
10.
Black Coal, Thin Ice
(Diao) In mood and texture, if not precisely in plot:
The Big Sleep
re-imagined in a drab, snowy Chinese industrial city. Or (more modestly)
Cold Weather
with real badges and blood.
Some other films:
Exit
Chienn Hsiang's film may be the most forgettable film I saw at this year's festival, but it's not
bad
precisely because it's genetically engineered not to be. That is, this Taiwanese entry feels throughout as if it was concocted from a "How to Make an East Asian Art-house Movie That Will Appeal to Programmers At Western Film Festivals" cookbook: two parts Tsai, two parts Apichatpong, a dash of Hou and Edward Yang, Jia to taste. I felt like I'd seen every scene, every composition, every narrative trope in five other,
better
films.
Man on High Heels
Well-meaning, mostly well-acted, almost well-executed, and roughly as sweet as it is silly, although its silliness at times threatens to cancel out some of its sweetness.
Maps to the Stars
Cronenberg's return to the deliriously perverse mode of
Crash
; he's still got it and the cast is game, but it's genuinely hard to tell whether the script is as obvious and on-the-nose as it seems or if that's just part of the meta put-on.
White Bird in a Blizzard
Somewhere between an interesting character study and an effective pastiche. I found it enjoyable enough while I was watching it—quite funny and smart in places—but it left a bad taste on my palate afterward, not least for its ultimate "reveal," which felt too much like a cheap punch-line and negated the sense of mystery that the film had sustained up to that point—what David Lynch aptly described as "killing the golden goose."
Top 10 Performances
01. Marion Cotillad –
Two Days, One Night
02. Kristen Stewart –
Clouds of Sils Maria
03. Nina Hoss –
Phoenix
04. Timothy Spall –
Mr. Turner
05. Channing Tatum, Mark Ruffalo, and Steve Carrell –
Foxcatcher
06. Eva Green –
White Bird in a Blizzard
and Julianne Moore –
Maps to the Stars
07. Haluk Bilginer and Melisa Sözen -
Winter Sleep
08. Tang Wei –
The Golden Era
09. Fan Liao –
Black Coal, Thin Ice
10. Juliette Binoche –
Clouds of Sils Maria