Blood and Guts: Films 11-15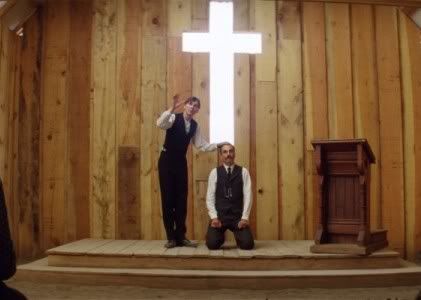 15. There Will Be Blood and 14. The Assassination of Jesse James by the Coward Robert Ford
In 2007, Paul Thomas Anderson and Andrew Dominik reinvented the western, crafting not anti-westerns in the Peckinpah sense per se, but rather films that actively investigated the mythology surrounding the settlement of the American West, drawing clear, straight lines to the U.S.A. of today.
There Will Be Blood
offers scorching illustrations of cut-throat capitalism (namely, the oil business) and born-again Christianity; it also features the decade's most dynamic performance in Daniel Day-Lewis' deviously charismatic, largely inscrutable Daniel Plainview. Dominik's
Assassination
traces the cult of celebrity back to Jesse James and his sycophant assassin, employing a slow-as-molasses, mood-driven approach. The result is the best Terrence Malick movie ever made by someone not named Terrence Malick.
13. A Talking Picture and 12. The Fog of War
The wisdom of elders has rarely felt more perceptive than it does in, respectively, Manoel de Oliveira's survey of the modern world and Errol Morris' extended sit-down with the fascinating Robert S. McNamara.
A Talking Picture
follows a mother and daughter sailing from de Oliveira's native Portugal to Mumbai, discussing high points in culture and civilization while exploring various ports of call. Late in the film, the narrative shifts to an on-ship current affairs debate led by John Malkovich (representing America) and including an international assortment of female passengers (representing France, Italy, and Greece). The film's leisurely pace and its gently critical tone, however, are no preparation for its shocker of a climax. In
The Fog of War
, McNamara speaks at length about his roles in World War II, the auto industry, the Kennedy White House, and, most (in)famously, as the "architect" of the Vietnam War; his admissions and hindsight reflections are, at once, illuminating and deeply moving.
11. Platform
Rightly lauded as the most significant work to emerge from China's Sixth Generation, Jia Zhangke's underground epic may forever remain his signature achievement. Rarely has the political been made personal as seamlessly as Jia pulls it off here, charting China's awkward transition from strict Maoism to semi-free market via a decade in the lives of a dance performance group.