Who Will Survive in America?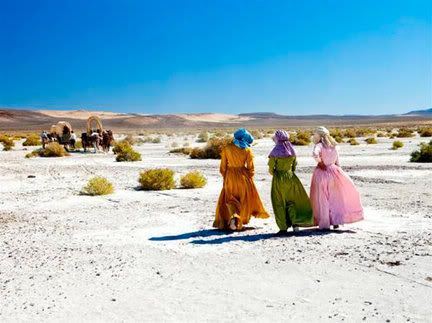 Wendy and Lucy
--the 2008 film that represented a giant step forward and the arrival of a major auteur in Kelly Reichardt--told the story of a young woman (Michelle Williams) trying to make it up to Alaska, but who gets stuck on the way in a small Oregon town, without money, without resources, and without her dog, Lucy. Many admirers at the time remarked upon the fruitful coincidence of this hard-luck tale appearing right in the midst of America's worst recession since the Great Depression. But such serendipity aside, Reichardt's larger concerns were the potentially dangerous myth of upward mobility and the "American Dream," how easily ordinary people can fall helplessly between the cracks, and where the promising frontiers of our collective imagination end and prosaic reality begins. Yet none of this is ever directly articulated or hammered home in big, histrionic moments;
Wendy and Lucy
is never not the story of a woman trying to get back the dog she loves very much. It's shot through with a sort of Bressonian grace, and it's quietly devastating.
Meek's Cutoff
is set in 1845, more than a century and a half before the present-day
Wendy and Lucy
. Both films, however, take place in Oregon (albeit in the case of
Meek's Cutoff
, 14 years before Oregon would be incorporated as the U.S.'s 33rd state--characters in the film speculate whether the territory will "go American"). Reichardt, an East Coast native, seems acutely fascinated by the space that the West Coast and, in particular, Oregon and the Northwest occupy within the American cultural psyche. Way off on the continental margin, it's a land that's stranger and less quintessentially "American" than Boston or New York or Philadelphia, while ostensibly promising opportunity and danger in roughly equal measure. There's a peculiar sense of deja vu in Reichardt's Oregon, of struggles endured and inevitably forgotten over time against the backdrop of an unfeeling physical landscape.
The problems encountered by Wendy are of a decidedly contemporary nature (chiefly, the absence of a solid social safety net). Those faced by the small company of immigrant pioneers in
Meek's Cutoff
are more dire: increasing shortages of food and water; innumerable miles of travel in a harsh desert terrain; the looming threat posed by the region's Native inhabitants; and maybe most of all, the unreliability of their contracted guide, the titular Stephen Meek. As played by Bruce Greenwood (reminiscent of Daniel Day-Lewis' charismatically sinister
There Will Be Blood
turn, though more reined-in and sparingly deployed), Meek is arrogant and mercurial, insisting, when his sense of direction is questioned, that "we're not lost, we're just finding our way." His most vocal critic, Emily Tetherow (again, Michelle Williams, who is fast becoming the De Niro to Reichardt's Scorsese), wonders aloud to her more mild-mannered husband (Will Patton) whether Meek is "ignorant or just plain evil."
If Meek is one of the great ambiguous screen villains of recent years, Williams' Emily, following Jennifer Lawrence's Ree Dolly in Debra Granik's marvelous
Winter's Bone
, is one of American cinema's most compelling feminist creations. As in her previous work, Reichardt is understated in her politics, making engrossing movies first and polemical statements second, but here, she's clearly interested in the evolution of female agency in American society and how that connects to or correlates with the extreme circumstances of the pioneer experience. In
Meek's Cutoff
, the men of the group huddle together making tenuous plans for their company's troubled passage, while we, the audience, remain amongst their wives and later a Native captive--just barely, or sometimes not quite, within earshot. We are privy, however, to private conversations between Emily and her husband. From these moments, it becomes clear that she's actually the one calling the shots and that she has an impeccable bullshit detector.
It's tempting to read
Meek's Cutoff
as a kind of historical prequel to
Wendy and Lucy
, with the outsize expectations of Manifest Destiny, of limitless gold and fertile land, evolving into Wendy's vague hopes regarding the even further frontier of Alaska. One of Reichardt's favorite motifs is the nocturnal campfire, that archetypal forum for pipe-dream myths to take shape before they soon evaporate in the light of day. Her latest makes excellent use of both these night-time gatherings (with Meek's over-confident tall tales taking on a ghostly quality in the flickering fire-light) and the oppressive, sweltering sun of the days that follow.
Meek's Cutoff
is unshowily gorgeous--often, at once, painterly and palpably grimy. The film's unforgettable final scene brings Reichardt's myriad concerns to a pointed head, closing on an image that's as haunting as the last shot of Ford's
The Searchers
.