Life's a Bitch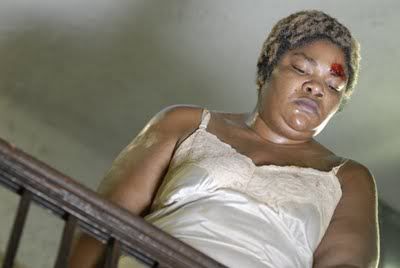 Judging from 2009's top awards contenders, that's the mantra of the year: "Life's a bitch." Rape, incest, poverty, HIV; unemployment, when you have a family to provide for and bills to keep ahead on; dismantling Improvised Explosive Devices within the heart of a war zone--choose your poison.
If this bleak worldview has a physical embodiment, it's not Jeremy Renner trudging around in an 80-pound Kevlar suit, nor is it George Clooney collecting air miles en route to deliver worst-case scenarios to unsuspecting employees. It's Mo'Nique dropping a television set over a balcony at her daughter and newborn grandson.
Precious
isn't a great movie and Armond White may not be totally off-base in his provocative assessment, but it's an exceptional example of the social-drama-as-horror-film.
Up in the Air
isn't a great movie either, but it's uncannily on time, on point, and in its scenes of the real-life laid-off playing essentially themselves, it's heartbreaking enough to convince you, me, and the Academy of Motion Picture Arts and Sciences that maybe it's something close to a great movie, after all.
Life's a bitch, and then you die.
Or perhaps you don't.
The Hurt Locker
is
a great movie, and Sergeant Will James is a great movie character, one who almost certainly should be dead, after disarming nearly 900 IED's, yet who isn't. But he isn't entirely alive either--not the way Claireece "Precious" Jones or Ryan Bingham are anyway. It's not too late for either of those protagonists. When James briefly returns home, he stands perplexed in the cereal aisle when asked to pick up a box of cereal, he can't relate with normal parental affection to his toddler son, and he can't hold a conversation with his wife without bombs becoming the subject.
And so he returns to war. The final shot of
The Hurt Locker
actually echoes that of
Precious
: James shuffling forward in his unwieldy uniform and Precious carrying her babies down a Harlem street, as, I suppose, Clooney's Bingham glides by somewhere 20,000 feet overhead.
Life's a bitch, and sometimes it just goes on.