Every Which Way But Loose (or Any Which Way You Can?)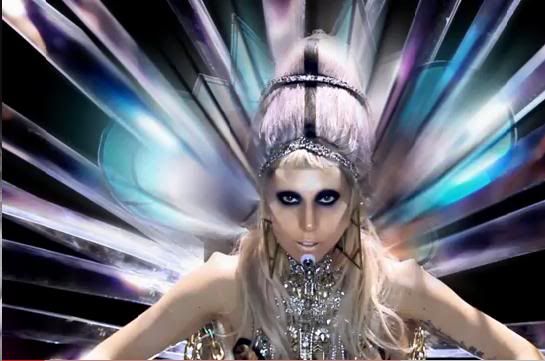 What we used to call "albums":
Lady Gaga, Born This Way
So, is this it? The moment when Gaga the persona stopped being interesting because Gaga the person (it's slipped through the cracks despite her best efforts at playing the blank slate) isn't? While the moment itself was inevitable, I assumed the music, which never felt secondary to her celebrity until now, had legs enough to carry her a couple years further. Not that this record is bad, or as boring as the socially well-meaning but insufferably self-serious young woman promoting it on the interview circuit. In fact, there's plenty to like, yet, to these ears anyway, nothing to love. Hell, I'd take "Just Dance" Akon-an'-all over anything on
Born This Way
, not to speak of "Paparazzi," "Bad Romance," "Telephone," even "Boys Boys Boys." I still like the idea of Gaga and, more importantly, the aforementioned songs enough to not give up on her. She certainly cares, which is a good thing, but maybe it's possible to give
too much
of a fuck?
Britney Spears, Femme Fatale
If Britney's latest is less ferociously meta-personal than the phoenix-from-the-ashes triumphs of
Blackout
and
Circus
, it's at least as through-inspired, perhaps more so than the latter. If you omit the Will.i.am dud sandwiched in the middle, it might be the most start-to-finish sparkling dance-pop collection since Kylie's
Fever
. Britney's never been more locked into the groove than she is here; her signature-thin vocal never gets lost in the mix, but rather flits and weaves expertly around it. Oh, and there's songs here, too. And they're really good. See: "I Wanna Go," "'Til the World Ends," "Inside Out." Then see: "Criminal," "How I Roll," and "Trip to Your Heart." It's like a perfect dream of pop presided over by an artist old enough, and (yes) smart enough, to know better but damn good enough at what she does for a living to keep the party going for the better part of an hour.
The Mountain Goats, All Eternals Deck
Six tracks in, I was ready to, again, write about "the best Mountain Goats record since the last one" and call it a day--nothing lost, nothing gained except another entirely fine Darnielle disc. Then--
voila!
--a song called "High Hawk Season" instantly rewrote the blurb you're reading, like an out-of-nowhere eleventh-hour comeback that forces a sportswriter to scrap the game recap he'd almost finished writing. Backed by a vocal trio listed as the North Mountain Singers, the song sounds like nothing else in the extensive Mountain Goats catalogue. Upon repeat listens, Darnielle and Co. are trying new things all over this album, just more subtly than on the singularly beautiful "High Hawk Season." He isn't just our most consistently excellent songwriter. He's an artist who remains stunningly capable of changing the game. And
All Eternals Deck
isn't just "the best Mountain Goats record since the last one"--it's up there with
Tallahassee
and
The Sunset Tree
.
Brad Paisley, This Is Country Music
From a promising Nashville up-and-comer. this would earn high marks. From Brad Paisley? We expect more, which is our problem but his fault: His last--what, four? five?--records, excluding the guitar curio, have upped the ante exponentially, not just setting the standard for radio country but expanding it in ways that feel as natural as they do meaningful. There's a reason why rock critics who typically avoid Nashville fare christened
American Saturday Night
as something of a
cause celebre
. Me? I like country music just fine without Brad's boundary-blurring smarts, though more with them. And they're not absent from this record, mainly because Paisley is more articulate in his trad move than his less clever contemporaries are trying to play cool.
This Is Country Music
is only reactionary insofar as it subtly implies that the broader scope of Paisley's recent work might not be.