Creation Myths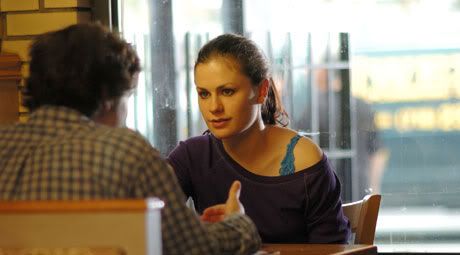 In a key scene from Kenneth Lonergan's
Margaret
, Anna Paquin's Lisa, a teenager who has witnessed (and is partly responsible for) the death of a stranger, confesses to Emily (Jeannie Berlin), the dead woman's closest friend that, in her final moments, the woman may have believed Lisa to be her deceased daughter and that this mistaken identity may have provided the woman some comfort. This line of thought, however, is vitriolically severed when Emily snaps at Lisa for cheapening her friend's death (and, more importantly, her
life
) by projecting onto it what Emily terms a self-important, juvenile fantasy. In calling bullshit on Lisa's semi-mystical musings (and kicking the stunned teenager out of her apartment), Emily delivers one of the few moments of lucid, forceful articulation in a film that's very much about the difficulty to articulate anything in a way that makes sense or means something to someone else. Emily is right, of course, that most people (and perhaps young adults most of all) tend to reduce the complexity of other lives in the creation of their own (inevitably solipsistic) personal narratives. Yet, reflecting back on the unforgettable death scene that comes near the beginning of Lonergan's film, Lisa isn't necessarily, or wholly, wrong.
Narratives of creation (including but not limited to an artist or artists' career trajectory, issues of authorship and "authenticity", financial constraints, technical elements of production, and the other artists or works that have served as an influence) almost invariably color and inform the way we experience art of all mediums. This is partly because we are taught (by implied example or in academic or professional settings) to ask these sorts of questions of art and partly because we don't interact with art in a vacuum and these narratives seem like natural ways of better "understanding" the work in question (e.g. "what it's doing" or alternately, "what it's trying to do"). This impulse to throw information at art and see what sticks has, if not necessarily intensified in itself, certainly been encouraged and exacerbated by the sheer amount of facts and "facts" accessible online.
Margaret
and Lana Del Rey's song "Video Games" are fascinating cases of works that are especially inextricable from their available (recovered or constructed) narratives of creation. The back-stories of both are well-known (at least among those concerned), at this point. (In the interests of not simply embellishing readily available information here, a quick skim of the Wikipedia pages--where else?--and footnoted links for
Margaret
and
Del Rey
will catch up the unfamiliar.) Regarding Lonergan's film, Mike D'Angelo (who
wrote about
, and played a key role in organizing, the "#teammargaret" movement)
observes
of its belatedly released form and contentious editing process that "now people are having trouble distinguishing (or are just not bothering to distinguish) the ways in which the film is kind of a mess from the ways in which it deliberately employs messiness as a worldview."
Margaret
presents a unique case in this respect: some scenes, for instance, are so brief and abruptly cut away from that the viewer knows (or at least assumes) that Longergan was forced to slice them into slivers. And yet these scenes, through the few lines of dialogue or expressive notes of body language or facial gesture that remain, always suggest larger, deeper moments in a way that feels curiously intuitive. They also serve to really punctuate the dramatic resonance of lengthier scenes, such as the aforementioned death scene or the intense argument between Lisa and Emily.
That is to say, the fundamental power and brilliance of
Margaret
remains intact, even if Lonergan's full "vision" for the film does not. If, per the script of devout auteurism, we must class it as a "flawed masterpiece," then so be it.
The Magnificent Ambersons
and
Eyes Wide Shut
, to cite two famous examples from this category, are superior to most else in cinema, "fully-realized" or otherwise; if Lonergan's film isn't quite on the level of Welles' and Kubrick's, it is still more interesting and more accomplished than almost any other film released in theaters last year. Filmed more than half a decade ago, it's the only American movie besides Spike Lee's great
25th Hour
to truly capture the damaged, confused, and volatile state of post-9/11 America (and in both cases, specifically New York City). It's an allegory that draws its power from pin-point specificity; a work of indelible prose that draws its title from a poem and in which the fragility and impermanence of steel buildings and of human lives are movingly rhymed on screen.
Margaret
is also a classic coming-of-age study, examining the various roles that a girl like Lisa is made to pass through or awkwardly shift between as she becomes an adult (like her stage actress mother? her well-meaning math teacher? the bluntly assertive Emily?). In this respect, Lonergan's film has a lot to do with Del Rey. Not so much with her song,
"Video Games"
, which is an exquisite piece of sultry-sad pop that's just about perfect, and maybe more remarkably, comes from what sounds like a fully-formed voice. Rather, Lisa's turbulent process of "becoming"--as well as the lingering question of how authentically representative
Margaret
is of its writer-director's intentions--intersect tellingly with the exhaustive online detective-work and backlash that shortly proceeded the arrival of Del Rey (whom any music blogger worth his weight in adjectives can tell you is "really" Lizzy Grant) and her superb song.
Writing eloquently about Del Rey's critical reception, Tom Ewing
notes
, "This fear of being fooled is hardly a new phenomenon, but it's one of many things that Web discourse amplifies and accelerates. The same networks that let crowds celebrate and create around what they love also empower them to strip new culture down, probe it for weaknesses, and demand to know everything about it." Reflecting on discourses surrounding authenticity and performance, Ewing wonders how the blogosphere would have reacted to the constructed persona of a pre-Internet artist like David Bowie. The more recent case of Lady Gaga, reduced from Warholian enigma to tabloid ordinariness, seems somewhat comparable and instructive. I wrote an
article
five years ago about Britney Spears, upon the release of
Blackout
and the nadir of her rough patch, and some of the misogynistic hostility I addressed there seems to apply to the narrative of Del Rey's prefab inauthenticity (especially for those who focus on Del Rey's supposed cosmetic surgery). But Bowie, Gaga, and Britney are full-fledged pop stars, and must be considered as such.
Del Rey may yet be (her major label debut,
Born to Die
, is due out at the end of the month), but for now, she should instead be considered under the Christgau-coined heading of "semi-pop," or else its Internet Era variant, "blog pop." This is not because "Video Games" is a less full-fledged pop song in any generic sense than Adele's "Rolling than Deep," but because YouTube views are not the same thing as units moved. Her peers are M.I.A., Janelle Monae, Azalia Banks, even Lily Allen who "came up" through the music blogs before becoming a bona fide celebrity (at least in her native Britain). And if the mainstream and tabloid media are tough on (seemingly) wayward mega-stars, the professional or semi-pro critics and enthusiastic amateurs that make up the music blogs and webzines are, in their own obtuse way, just as vicious and far more impatient with the artists they cover-- especially female artists, who are categorized as much in terms of their sex appeal or lack thereof as are mainstream celebs by the taboid press. Perhaps this is because, within the echo chamber that is this corner of the Internet, the illusion that artists like Del Rey and Banks are household names like Spears and Gaga implies the subsequent obligation to subject these "viral" up-and-comers to the kind of scrutiny to which
Us Weekly
and Perez Hilton hold the mega-stars.
It should also be kept in mind, however, that many if not most of the writers in question "came up" (how, where, and by what means one "came up" are always key considerations in narratives of authenticity) on '80's and '90's indie rock, and an ideology of DIY authenticity as religious as cinema's auteur theory. When, in the wake of music's supposed digital democratization, these writers profess devotion to the eccentric pop of Robyn and Janelle Monae, they do so under essentially the same contract terms as stipulated in their bootleg cassette-sharing formative years. This concept of what is or is not "authentic" is then coupled with the notion that music bloggers "made," or created, such artists (as opposed to generally admired major stars like Beyonce, Rihanna, and Justin Timberlake, in whose career trajectories and origin stories music writers have less of a personal stake). Hence, the bitchy reaction against someone like Del Rey, when it is discovered that Lizzy Grant and various industry professionals created Lana Del Rey before "Video Games" went viral.
Ironically, the greatest artist of the '90's and the artist behind
last year's finest album
, Polly Jean Harvey, has for two decades rejected attempts to "understand" her music through neat conceptions of authenticity and biographical exposition. Shifting ever between voices, roles, and musical styles, Harvey has produced art as (seemingly) personal as it is consciously performative, while blurring such distinctions as if they're beside the point. Judging from "Video Games" (and, to a lesser extent, her other early tracks), Del Rey seems also to be aware of where the boundaries lie and how to fuck with them--a promising sign for her chances of surviving, and maybe transcending, Web stardom.
The hypnotic
video
for "Video Games," directed and edited by Del Rey herself (!), certainly suggests as much. The clip weaves together disparate archival and contemporary video footage: Hollywood red carpets past and present; palm trees against the California sky; skateboarders navigating empty urban spaces; POV driving shots across bridges and down freeways; an American flag swaying in the breeze; and Del Rey herself, who dangles an unlit cigarette like the kind of Old Hollywood femme fatale her pseudonym suggests as she affectedly delivers the kicker: "I heard that you like the bad girls, honey / Is that true?" Soundtracked by Del Rey's haunting part-Chan Marshall, part-Patsy Cline, part-something-else-altogether croon, the video constructs "real" footage into a dreamy mytho-mosaic of California (made, quite appropriately, by an artist from back East). Lonergan's film, meanwhile, is a work of scripted fiction that captures the essential reality of post-9/11 New York. Both
Margaret
and "Video Games" are, finally, the real deal: works of art that exist within tangled webs of discourse, and yet transcend the noise of information through something like profundity.