Movies While They Last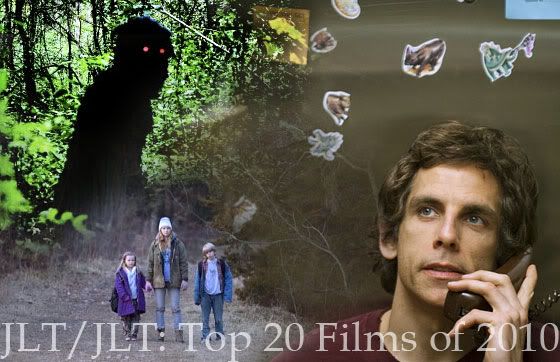 Putting this year's best-of list together has led me think a little bit about the different ways in which we see movies. The contrast, for example, between my #1 and #2 picks seems to emphasize the significance of following such a train of thought. The former was truly one of the twenty or so most powerful theatre-going experiences I've ever had, yet, sadly, I doubt--mostly because of the vagaries of DVD distribution but also because of the time-commitment required to properly watch a six-hour film--that I'll see it again anytime soon. #2, on the other hand, I've seen no fewer than a dozen times since first catching it at the multiplex. Like the films that occupied the
top two slots on my best of the 2000's list
, I've come to like it even more than I did initially because of the hidden surprises it's continued to yield upon revisiting. Several other titles on my list would, I suspect, benefit similarly if they were currently available on DVD, while a few others (such as #18 and #19) likely wouldn't pack anywhere near the same punch on a TV screen, with the option of pressing pause and without an audience sharing in the experience. Which is to say, this is a considered but by no means inflexible snapshot of what I liked or admired most in movies this year, from the not necessarily prime vantage point of late December.
The other thing I got to thinking about is how much movies can really
mean
. Not just personally, to me or you, but, you know, in the Grand Scheme of Things. I would argue that, sometimes (my #1 and #5 and even #20 come to mind), they can mean quite a lot--they can mean the power of a voice speaking firmly and eloquently against political oppression and corruption; they can mean guiding us to remember past events in danger of slipping beyond memory or immediacy; they can mean challenging contemporary projections of what constitutes the status quo. I can't help but think of Iranian auteur Jafar Panahi, one of the finest filmmakers working today. Unless something changes for the positive soon, he'll spend the next six years in prison and will be banned from making movies for the next twenty in punishment for vocally supporting the opposition to the Ahmadinejad government. I'm sure the sympathies of not just cinephiles but remotely compassionate people everywhere are with Panahi right now, and for what it's worth (probably not much, granted), this list is dedicated to the spirit of thoughtful resistance and meaning that his work exemplifies.
First, a half-dozen runners-up that in a less stellar year would've surely made the cut:
Dear Prudence
Rebecca Zlotowski's uncommonly sensitive study of a teenage girl's day-to-day life following her mother's death is, for my money, the year's most assured and promising directorial debut. Lea Seydoux's titular turn impresses in a year brimming over with outstanding performances by young actresses.
The Illusionist
Sylvain Chomet's charming filmization of a Jacques Tati script is the year's 2nd-best animated feature--and, upon reflection, it's not all that thematically dissimilar from the final chapter of Woody and Buzz Lightyear.
Kawasaki's Rose
No film this year, besides maybe #20 on my list, felt more generous or inclusive toward
all
of its characters, despite or sometimes maybe because of their myriad shortcomings. Remarkably, that warmth doesn't entirely soften the film's political bite either.
The Strange Case of Angelica
In placing Manoel de Oliveira's latest here, I do so with the reservation that I strongly suspect it would've finished higher had I not seen it in a film festival setting, where such a compact, understated, and wry film is inevitably overshadowed by flashier works like the sprawling
Carlos
and the delirious
Uncle Boonmee
. I hope to revisit this
Strange Case
as soon as possible.
13 Assassins
and
True Grit
Mostly straight-faced, thoroughly accomplished genre exercises from filmmakers who usually work in self-conscious quote marks. Takashi Miike's samurai yarn is as much pure popcorn fun as any movie released this year, with the always awesome Koji Yakusho demonstrating some Eastern true grit. The Coen Brothers' take on the Charles Portis novel (and the subsequent movie that won John Wayne a late-career Oscar) is a legitimately engrossing western, complete with an immensely charismatic Jeff Bridges performance and some great references to
The Night of the Hunter
. Two things, in my view, prevent it from climbing a little higher on this list: 1) It can't help but feel a tad minor following
A Serious Man
, one of the Coens' most personal and distinctive films, and 2) While this
True Grit
is probably superior to the 1969 version, that film packs extra poignancy within the context of John Wayne's career and place in the popular imagination; Bridges is a terrific actor, but he's not
mythic
.
20.The Kids Are All Right
In a year dominated by three-dimensional spectacles, Lisa Cholodenko's very smart, very funny ensemble piece offers actual, three-dimensional human beings. It also provides real hope that Hollywood can still winningly pull off the "small film." The most radical thing about this movie is how happily mainstream it is, in theme and in presentation; implicitly, Cholodenko seems to be asking: why should this movie be any stranger or more marginal than any other relationship- and family-centered comedy/drama? The script is sparkling and the performances across the board are superb, especially a never-better Annette Bening and Mark Ruffalo, adding nifty new twists on the character he's been more or less consistently typecast as since
You Can Count on Me
.
19.L.A. Zombie
and
18.Enter the Void
These two, on the other hand, are purposefully radical experiments that mostly succeed. Bruce LaBruce's horror-porn hybrid offers an unflinching, if tongue-in-cheek, look at life on the margins of Los Angeles, both for a gay community that doesn't live nearly as comfortably as Bening and Julianne Moore in
Kids
and for the homeless and mentally unwell residents of L.A.'s less scenic districts. The great surprise of
Enter the Void
--given both the subject matter and Gaspar Noé's track record--is that it's finally more pleasurable than it is off-putting. Sure, the film is overlong by at least a half-hour and Noé ventures places he's frustratingly unwilling to actually spend much thought investigating, but while it's on-screen, it's hypnotic, frequently exciting, and sporadically breathtaking in its vision and audacity.
17.
Aurora
and
16.Winter Vacation
If, as the Talking Heads predicted, heaven is a place where nothing ever happens, then Cristi Puiu and Li Hongqi are certainly on the right track. These are films about, first and foremost, time passing--slowly,
very slowly
. The former presents, elliptically yet in paint-drying detail, the events leading up to a violent crime, with Puiu turning in an appropriately unreadable lead performance. The latter is a deadpan comedy observing the goings-on (mostly, among the kids on break from school) in a small Inner Mongolian community; the final scene solidifies the sharp sociopolitical metaphor suggested more loosely by what precedes it.
15.Air Doll
Teresa liked Hirokazu Koreeda's dark, Pinocchio-esque fantasy
so much she named it her top movie of 2009. I didn't see it until this year, but I was nearly as impressed.
Air Doll
is full of surprises, some splendid and others shocking, shifting between tones without ever feeling discombobulated. Koreeda's Tokyo might be the loveliest depiction of the metropolis I've ever seen on film; Doona Bae's performance as a sex doll come to curious and painful life is as heartbreaking as Haley Joel Osment's in
A.I.
.
14.Carlos
and
13.Toy Story 3
On first glance, these are two films with very little in common, but they both present deeply resonant portraits of life after irrelevancy. The adventures of the previous two
Toy Story
installments(which I've now seen dozens of times each, thanks to my two year-old son who loves them) are comparable with the first two-thirds of Olivier Assayas' epic biopic, culminating with Woody & Co.'s triumphant return home in
Toy Story 2
and the breathlessly sustained OPEC raid sequence in
Carlos
. Then, Andy, inevitably, grows up and must head off to college sans toys; international terrorism evolves beyond Carlos' cult-of-celebrity hijinks. The final moments of
Toy Story 3
are among the year's most beautiful and wistful, suggesting a cyclical nature of existence. The ending of
Carlos
implies, too, a cyclical continuity--but the events we all know well enough not to have to see are anything but beautiful or wistful.
12.Around a Small Mountain
and
11.Bluebeard
Understated almost-masterpieces from great French filmmakers. What might well be Rivette's swansong is an affectionate study of a circus troupe that's so low-key and modest that its greatness sort of sneaks up on you near the end. Catherine Breillat's
Bluebeard
(which opened commercially in North America this year and is much preferable to its muddled follow-up,
The Sleeping Beauty
) is a take on Perrault's fairy tale where the titular villain is a moody, world-weary giant burdened by what he regards as a fatalistic obligation. The framing device, with two young sisters reading Perrault's story together, circles back on Breillat and functions provocatively alongside her ambiguous, muted telling of the main tale.
10.Dream Home
and
09.The Social Network
The year's most immediately relevant films: one a high-grossing, Oscar-contending Hollywood product, the other a Hong Kong extreme horror movie we luckily plucked off the shelf of a bootleg DVD kiosk. David Fincher's career-best effort gets the slight edge for Justin Timberlake's pitch-perfect, scene-stealing supporting turn.
08.I Wish I Knew
Jia Zhangke is the most consistently excellent filmmaker working anywhere in the world today.
I Wish I Knew
preserves his status, as Jia takes a probing, concentrated look at the history and evolution of Shanghai. His long-time muse, Zhao Tao, wanders around the city like a ghost navigating somewhere, at once, familiar and alien.
07.The Tiger Factory
and
06.
Winter's Bone
Young females making their way in a harshly unwelcoming world was surely one of 2010's great cinematic themes. We find it in
Dear Prudence
, in
Air Doll
(not as young technically, but youngest of all in terms of experience) and in the Coens' version of
True Grit
. And this concept is given especially brilliant treatment in Woo Ming Jin and Debra Granik's films. The former is a haunting look at day-to-day life in the developing world of Southeastern Asia, where money talks and literally everything has its price. The latter evokes
The Night of the Hunter
more powerfully than the Coens do in telling the story of a teenage girl in the Ozarks looking for her missing meth-cooking father. The scene where she finally "finds" him might be the year's single most indelible movie moment.
05.
City of Life and Death
Lu Chuan's harrowing account of the Japanese occupation of Nanjing might've placed higher if I could work up the nerve to watch it again. After one viewing, however, I do feel confident in ranking it alongside the greatest war films ever made--in recent memory, only Malick's
The Thin Red Line
, De Palma's
Redacted
, and Kathryn Bigelow's
The Hurt Locker
are as potent and powerful.
04.
Valhalla Rising
and
03.Uncle Boonmee Who Can Recall His Past Lives
The year's most flooring (and unclassifiable) exercises in pure cinema. I kind of feel sorry for the
Gladiator
- and
300
-loving dude I see pulling Nicholas Winding Refn's Viking headfuck off the shelf at Blockbuster (where it's hilariously being promoted as if it's your garden variety period swashbuckler). But I'd also kind of like to sit down and watch it with him. And if, somehow, he ends up liking it, I'll enthusiastically recommend
Uncle Boonmee
.
02.
Greenberg
I've already written at length and on multiple occasions in this space about how much I love Noah Baumbach's film, so I'll use this blurb as an opportunity to list a few of the things I've come to additionally love from subsequent viewings: Rhys Ifans and Jennifer Jason Leigh's performances (every bit as on-the-mark as Ben Stiller and Greta Gerwig's more prominent turns); that when his niece and her friend tell him that he should go to Australia with them, Roger's first reaction is, "There's this great Kinks song called 'Australia'..."; the scene where Roger asks his brother on the phone from Vietnam if pools can overflow ("Can pools overflow? Fuck you!") and then tries to remedy the situation; Florence coming to after her abortion and telling Roger: "You like me so much more than you think you do".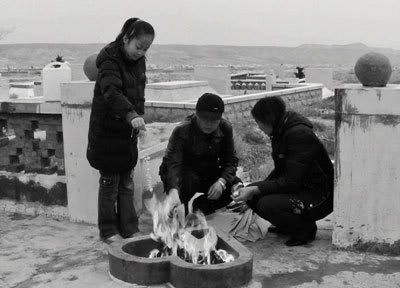 01.
Karamay
Xu Xin's monumental documentary is so unforgettable that I find myself thinking of individual scenes--of particular parents discussing their children or that video footage of the kids just before the fated performance--on an almost daily basis since seeing
Karamay
months ago. It's one of those rare films that you just can't shake. Its final scene edges
Uncle Boonmee
's for the year's greatest: a young girl performs a musical ode to Chairman Mao in her parents' (who lost a child in the Friendship Hall fire) living room when, all of a sudden, Xu switches from gritty black and white to DV color and then, with her song still lingering on the soundtrack, the shot jumps to the rebuilt Friendship Hall as a couple teenagers skateboard out front. Life goes on, Xu suggests, but the present is always colored by the past and our ability the shape the future depends critically on our understanding of this truth.