Golden Age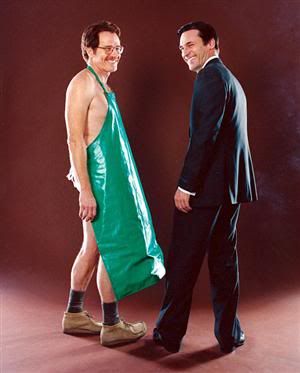 The past decade has been arguably the most fruitful and varied in television's young history as a storytelling medium. This is especially true of the hour-long drama format, which dominates my list of the past 10 years' 10 best shows. I'll note, too, that for the list I'm considering any series that aired in the new millennium, no matter how long or short its run, including shows now off the air alongside those still running. In the case of shows that began their run before the 2000's, I'm nevertheless factoring in the entirety of the series as it seems rather pointless to consider a fragment of a work as opposed to its cumulative impact.
First, some runners-up:
-
Arrested Development
The flat-out funniest show of the new millennium.
-
Curb Your Enthusiasm
A close second in that department.
-
Deadwood
I don't love this show as fervently as many do, but it's a tremendous achievement either way.
-
Dexter
At its worst,
Dexter
is repetitive, superfluously morbid, and contrived. Yet even then, it's compulsively watchable, due largely to Michael C. Hall's pitch-perfect title turn.
-
Firefly
My least-favorite Joss Whedon show--partly because, at just one season, it simply didn't have the opportunity to explore some of the more interesting directions it hinted at and partly because (while I like him okay) I don't find Nathan Fillion as compelling or appealing as everyone else apparently does.
And a special mention:
Boardwalk Empire
I know, I know--we're only six episodes in, which is why I've reserved this spot for Terrence Winter's brainchild. If the last couple episodes (and especially that awesome musical montage that closed "Nights in Ballygran," the show's best moment thus far) are any indication, this show will deserve a more official slot on such a list as this in the years to come.
10.Big Love
Bill Paxton is very good as Bill Henrickson, a polygamist entrepreneur living with his three wives in suburban Salt Lake City, but the secret to this show's success is its incredible ensemble. Unlike several shows occupying higher slots on this list,
Big Love
's central themes do not rest permanently, or ultimately, on its male protagonist's shoulders. His wives, played by Jeanne Tripplehorn, Chloe Sevigny, and Ginnifer Goodwin each take turns as the show's dramatic center, and each of these characters (and performances) is rich enough to be up for this unique strategy. It's key supporting performances by Harry Dean Stanton, Grace Zabriske, and Daveigh Chase, though, that serve as the difference-maker in landing this one in my 10-spot ahead of the also-rans.
Best Season:
2
Best Episodes:
"The Happiest Girl"; "Sacrament"; "Come, Ye Saints"
09.Dollhouse
Another woefully too-short-lived Whedon work, but at least this one received double the lifespan of poor
Firefly
. And it uses its two seasons brilliantly, traveling through bold and strange territory previously uncharted on television; word of the show's premature cancellation resulted in over-accelerated plot pacing that's season two's only real, glaring flaw. The narrative arc(s) of that season could've easily sustained three or four. Unfurled in greater detail, they would've no doubt yielded more engrossing drama, perhaps comparable to the heights of
Buffy
and
Angel
. Still, what we've got is pretty great. At its peaks,
Dollhouse
is as awe-inspiringly accomplished as anything Whedon's touched. Like the best of science-fiction, the show is ominous and eerily prescient, forecasting a future less distant than we'd prefer to believe.
Best Season:
2
Best Episodes:
"The Attic"; "Belonging"; "Epitaph One"
08.Breaking Bad
At its core, Vince Gilligan's series is one of the most poignant yet fiercely unsentimental studies of a surrogate father-son bond in any artistic medium. Bryan Cranston and Aaron Paul are both fantastic; their rapport feels so emotionally raw and true. Neither they nor Gilligan ever pander to audience hopes or expectations. The show has a heart, but it's a tough and jagged heart, projecting pride and resentment and bitter frustration and, occasionally, real warmth that's all the more affecting for its infrequency and guardedness.
Best Season:
3
Best Episodes:
"Full Measure"; "ABQ"; "Fly"
07.Angel
To call
Angel
TV's greatest spin-off means what exactly? That it's better than
Frasier
? That's certainly an understatement (and I like
Frasier
). To be sure,
Angel
had a major advantage from the outset that Whedon's later shows did not have--it was working with characters and a general mythology that we already knew and loved from
Buffy
. But
Angel
is very much its own show, transplanting the action from little Sunnydale to big, bad L.A. and from high school, college, and the cemetary to a film noir detective's office, a gorgeous Old Hollywood hotel, and the sleek downtown high-rise of a demonic law firm. Speaking of which, Wolfram and Hart is
Angel
's secret weapon. It's their sinister shadow behind every small-time villain that ties
Angel
's five seasons together in a way that
Buffy
's individual season arcs never so tightly cohere. It's also what brings us to one of the all-time great series finales, "Not Fade Away," wherein Angel and Co. go all in for the ultimate Good Fight.
Best Season:
5
Best Episodes:
"Not Fade Away"; "I Will Remember You"; "Waiting in the Wings"
06.Friday Night Lights
Small-town Middle America (and more specifically Texas) has never been presented so multi-facetedly on television or in film as it is in Peter Berg's small-screen adaptation of a merely fine film he'd already directed from Buzz Bissinger's famous non-fiction book. The performances across the board are spot-on, but Kyle Chandler and Connie Britton deserve special mention for the most realistic portrait of a (functional) married couple in TV history. Eric and Tami Taylor disagree and they argue; they sometimes bite their tongues and make compromises; they support each other's passions and, at the end of the day, they clearly maintain boundless affection and admiration for the person with whom they've chosen to share their life. Their relationship is, in effect, a microcosm of the care and sensitivity with which this show treats all of its characters, from the ne'er-do-well local lothario to the used car salesman who cares more about winning high school football games than about selling cars.
Best Season:
3
Best Episodes:
"New York, New York"; "Tomorrow Blues": "Laboring"
05.The Shield
Shawn Ryan's controversial cop drama is one of the Great American Tragedies. And it's a prime example of television's unique advantages in detailing the rise and fall of an anti-hero as deeply layered as Vic Mackey (astonishingly played by Michael Chicklis). As I noted in my film fest blurb on
Carlos
, there's virtually no way in a two-hour movie that we could feel the many different and conflicting things we come to feel about this ruthless yet magnetic man. It's precisely because, in the early seasons, we relish Mackey's charismatic, bad-boy swagger that the level of his ultimate despicability--and the brutal irony of his end-of-series fate--hits us so hard. The final season, focusing primarily on the fatally soured relationship between Mackey and Strike Team co-founder Shane Vendrell (the amazing Walton Goggins), raises bad-cop pulp to positively operatic heights, culminating in acts of unspeakable violence. It's one of very few shows daring enough, after seven turbulent seasons, to leave longtime viewers with an inevitable bad taste in their mouths. The series finale, "Family Meeting," is a no-holds-barred masterpiece that's impossible to shake and viscerally recolors so much of what's preceded it.
Best Season:
7
Best Episodes:
"Family Meeting"; "Postpartum"; "Dominoes Falling"
04.Gilmore Girls
The most illustrative statement on class divisions and tensions in contemporary America isn't some angry, radical polemical tirade. It's a mother-daughter dramedy set in a scenic Connecticut hamlet populated by well-meaning eccentrics. Amy Sherman-Palladino's series gets it all right. In charting the romantic and financial highs and lows of Lorelai and Rory Gilmore, the show presents both the poisonous effects of money and the lure, comfort, and necessity of it. Among the show's most consistently interesting (and surprising) characters are Lorelai's wealthy parents, Richard and Emily (Edward Hermann and Kelly Bishop, both excellent). The titular twosome's Friday night dinner visits to their Hartford mansion make for many of the show's memorable (and socio-culturally invested) scenes, best of all in the episode, "Friday Night's Alright for Fighting," which ends with an epic series of heated discussions, humorous chats, and repressed family arguments resurrected anew--a nifty encapsulation of Lorelai's complicated relationship with her parents and with her own high-society past.
Best Season:
3
Best Episodes:
"They Shoot Gilmores, Don't They?"; "Girls in Bikinis, Boys Doin' the Twist"; "Friday Night's Alright for Fighting"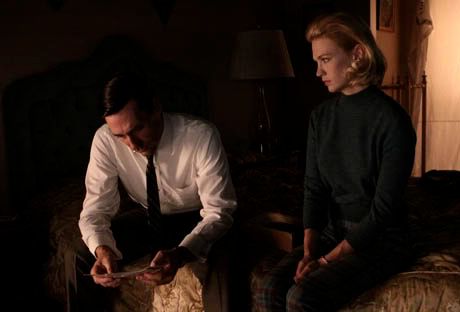 03.Mad Men
Whenever I try to convince non-
Mad Men
watchers to start tuning in (or better yet, play DVD catch-up since the show relies more heavily than most on our recollection of events from previous seasons), they often respond that they've been meaning to because it looks really fun, because they love the era, the fashion, the music, what they perceive as the show's "attitude" or its sense of cool. I encourage their enthusiasm, partly because I like the idea of a world where I can talk
Mad Men
every in-season Monday with every person I happen to meet and partly because, yeah, the show can be pretty damn cool. But I also can't help but wonder if they'll perhaps be disappointed. The show's marketing and media-exposure focus (understandably) on its stylishness and sexiness, with briskly edited montages of Joan tossing off catty one-liners in a curve-hugging dress and Don looking impossibly dapper, cigarette and glass of Scotch in hand. Let the cameras roll just a second longer, though, and you see disappointment and regret, sexism and addiction, isolation and melancholy. This is one of the most understated and genuinely moody shows to ever air--exactly as schizophrenic as the American cultural psyche of 1960's.
Best Season:
4
Best Episodes:
"The Gypsy and the Hobo"; "The Suitcase"; "Babylon"
02.Buffy, the Vampire Slayer
Unlike most of the other shows on this list (particularly those on premium cable),
Buffy
was never a fabulous-looking high-budget product. The show's vampires and myriad other creatures often look rather laughable, its fight scenes too noticeably staged and body-doubled, and its sets a little flimsy and over-recycled. But this relative cheapness perfectly suits TV's greatest balancing act between tongue-in-cheek camp and real, piercing drama. The slayers-and-vamps mythology draws you in with its soap-opera irresistibility, but Joss Whedon's signature series wouldn't rank nearly so high on this list if weren't for the exquisitely developed characters and the decidedly non-fantastical or campy problems they frequently face. Buffy Summers doesn't just have to fight the forces of evil--hell, sometimes that seems like the easy part; she also has to deal with the heartache of breaking up with her first serious boyfriend, serve as a mother for her younger sister (while grappling with her own grief) when their mother unexpectedly dies, and pay the bills by working a minimum-wage fast food job. That's life--even when you're the Chosen One.
Best Season:
4
Best Episodes:
"Once More, with Feeling"; "Conversations with Dead People"; "The Body"
01.The Sopranos
What is there left to say, at this point, about
The Sopranos
? So much has been written and argued about David Chase's landmark series that it's hard to offer a fresh voice in the mix. Yet unlike other pop-cultural touchstones,
The Sopranos
has lost none of its potency through tireless analysis and dissection. Watch "Whitecaps," for example, the unbearably intense fourth season finale, in which tensions between Tony and Carmela come to a bitter head. It's downright searing. Or the Paulie-and-Christopher-stuck-in-the-woods stand-alone "Pine Barrens." It's just as hysterically funny, and as fascinating a supporting character study, as the night it aired. When in the canonized first season classic "College," Meadow asks her dad if he's in the mafia, we still cringe a little and hold our breath for a second. "There is no mafia," Tony at first testily replies, before conceding a little ground to a daughter he knows is now too smart and perceptive to be completely bullshitted. Tony Soprano
is
the greatest character in television history, and one of the finest creations in American fiction of any medium, due largely to James Gandolfini's towering performance. He's often repugnant and yet oddly lovable almost despite himself (think of him and A.J. preparing ice cream sundaes to the soundtrack tune of "White Rabbit"); he's nostalgic for a past he over-romanticizes while, at the same time, he's more progressive than he can afford to admit (remember his conversations with Dr. Melfi concerning Vito's homosexuality and his private "live-and-let-live" viewpoint?); he strives to gain greater control over his emotions but recoils from the realization of his anxiety's deep-rooted source (read: Nancy Marchand's Livia Soprano, another of TV's most utterly indelible characters). The show's ambiguous final scene is Chase's ultimate masterstroke. While some viewers bemoaned its lack of clear resolution, a pat conclusion would've felt like a cop-out for a show this unfailingly complex.
Best Season:
5
Best Episodes:
"Whitecaps"; "Long Term Parking"; "College"