Posted by

culticonic

on Saturday
/
/
The Answer Was Underground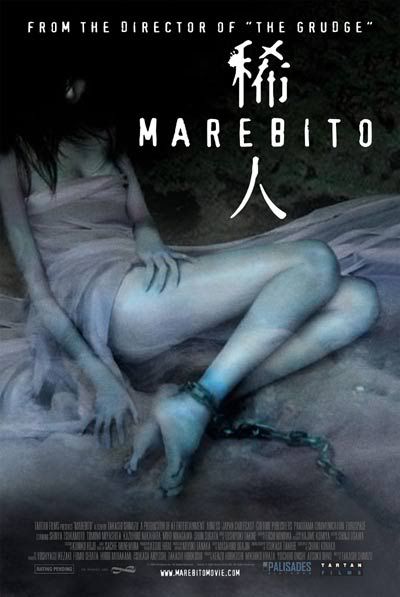 First of all, I promise this is not another
review of a Japanese softcore
, despite what the poster might suggest.
Marebito
is
Grudge
/
Ju-On
director Takashi Shimizu's foray into horror that is more psychological than material. Or, it at least
seems
like that was his intention. The film--about a Tokyo cameraman named Masuoka (played by director/actor Shinya Tsukamoto) so obsessed with primal human fear, he embarks on a mini-journey to feel it himself--doesn't succeed on many levels at all.
The film is peppered with Lovecraftian atmosphere, heavy philosophical angles, and a nod to a Richard Shaver story (his fictional underground creatures, called Deros, are featured). It even manages some bristling kinetic energy via the gimmicky use of Masuoka's camera as a portal to things the human eye may not always see. But instead of holding onto the elements that would make the movie memorable, Shimizu ditches them in favor of nonsensical oddness leading up to a half-baked "revelation."
And Shimizu isn't the only one to blame. With all due respect to Tsukamoto (who, I must say, really belongs
behind
the camera), Masuoka proves to be a protagonist so cold and distant, it's near-impossible to remotely care about anything he does. Which is unfortunate, since what he does do--travels underground, finds a strange young woman/creature, cares for her no matter what gruesome rituals that entails, etc--could have made for ultra-compelling viewing.
Then there's the appearance of the Deros themselves. Slightly eerie, but a little too reminiscent of the little blue boy or the crawling, white-skinned mommy for anyone who's even seen a
Grudge
trailer.
So, is there anything redeeming in
Marebito
? It's never a particularly good idea to lose focus with the story, or mislead the audience so much that they're disappointed by what is revealed. Shimizu, with his previous work as evidence, is accustomed to doing just that. His sometimes unsteady hand manages to derail
Marebito
's fascinating first act, with his
Ju-On
"sensibilities" snatching the wheel alarmingly fast. The first ten minutes, admittedly, are the kind of stuff that would suck any viewer in, and then some. Shimizu deserves props for that. But, y'know, it's kinda nice when the rest of the movie doesn't completely underwhelm itself.
Though
speaking of good endings
,
Marebito
's isn't too shabby.